Outreach Materials Header
OUTREACH MATERIALS
Help us raise awareness about marine debris in the Pacific Islands with these resources!
Marine Debris Content Portlet
Green Your Event

Kokua Hawai'i Foundation is offering suggestions for any event organizers who are looking to go plastic free at their events. Best part of it is the list of sources in Hawai'i to get compostables and how to ask for the right products. 
1) Green Your Event Guide - comprehensive greening suggestions
2) How to Organize a Plastic Free Event - easy steps to go plastic free, along with sources of compostable alternatives
3) Vendor Guidelines  - these guidelines can be used to put in vendor agreements that event organizers send out to their caterers/food trucks
NOAA Marine Debris Fact Sheets

Download and print fast information on marine debris, the "garbage patch," the Marine Debris Program, and other hot topics.
Regional Emmy® Award-Winning TRASH TALK

Ocean Today, in partnership with the NOAA Marine Debris Program, presents Regional Emmy® Award-winning TRASH TALK, a 15-minute special feature on marine debris.
Marine Debris Tracker

The Marine Debris Tracker mobile application is a joint initiative between the NOAA Marine Debris Program and the Southeast Atlantic Marine Debris Initiative(link is external) (SEA-MDI), run out of the University of Georgia College of Engineering. The tracker app allows you to help make a difference by checking in when you find trash on our coastlines and waterways.
The app records the debris location through GPS, and you can view the data on your phone. Submit the data to SEA-MDI's Marine Debris Tracker website for viewing and download later (requires registration, which is available on the app). Download the app and start tracking today!
NOAA Marine Debris Posters & Brochures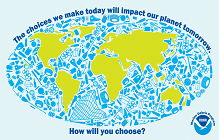 Hang a display in learning centers to educate visitors about "garbage patches," put a poster in your classroom, or hand out brochures in your community. We have a limited amount in print.